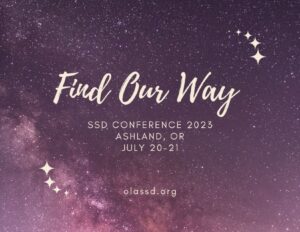 Finding Our Way
SSD Conference 2023
Ashland Oregon
July 20-21, 2023
How Stories Can Save Us – Mark Yaconelli, Keynote Speaker
In an increasingly fast-paced and fractured world, sharing stories can be a radical and deeply human practice for uncovering the ties that bind us to one another. Story invites us to step into the reality of another person's existence and instead of judgment feel kinship. In this inspiring and interactive presentation Mark Yaconelli will show how stories can heal our families, our world, ourselves.
https://markyaconelli.wordpress.com/
Lunchtime Speaker: Ellie Alexander
A fun and uplifting presentation about the mysterious meanderings of living a bookish life, whether in a library or through the pages of your favorite read.
No Material Provided
Sessions
Basic Book Repair for Libraries – Carolee Harrison
Learn how to extend the life of books in circulating collections in this hands-on workshop. We'll begin with a brief introduction to the materials and mechanics of book structure, then move into repairing loose pages and bindings, broken hinges, detached covers, torn spines, and damaged corners. Please bring books you'd like to practice on! Attendees will receive a set of book repair tools to take home, and resources for additional mending instruction and supplies will be provided.
No material provided
The Healy Power of Story – Mark Yaconelli
No Material Provided
Lightening Talks
– OLA-SSD2023_Oregon-Newspaper-Program – Maureen Flanagan Battistella
– Lightning-Talk–Book-Resums – Alyssa Donoho
– The-Virtual-Library-slides (1)– Anna Bentley
– Oregon-Digital– Sara Trott
– EDIA-Committee-Lightning-Talk-– Ericka Brunson-Rochette
Snapshot of Southern Oregon Services – Kari May
We are pleased to welcome the SSD Conference to Southern Oregon and wanted to share with you some highlights of what services might be unique to libraries here. Jackson County Library Services Director Kari May will share information about library services at JCLS, as well as some of her neighbors: Josephine Community Library, Klamath County Libraries, Southern Oregon University, and Rogue Community College.
Material Provided:  JCLS-SSD-Presentation-2023
The State Library: Your Hidden Gem – Darci Hanning
In this session, attendees will discover one of our state's "hidden gems" – the State Library! Darci Hanning, Public Library Consultant and CE Coordinator, will provide a quick summary of state libraries generally and an overview of the State Library of Oregon specifically.
Next, attendees will learn about the team of consultants from Library Support and Development and in particular, the services and programs they offer, including the statewide databases and continuing education resources that are free to all Oregon library staff.
Be prepared for a (fun!) pop quiz, a quick brainstorming session, and a chance to ask questions!
Material Provided:  SSD2023 – State Library- Your Hidden Gem Slides
Why Get a Library Degree – Greta Berguist
Have you thought about pursuing a Master of Library Science, but aren't sure you're ready to make the commitment? Do you have more questions than answers? Greta Bergquist from the State Library will host this session about the ins and outs of going to school while working and the value of a library science degree to librarianship. Greta first worked in libraries as a college student without a degree and had careers in other areas before coming back to libraries. She graduated from the iSchool at University of Washington in 2011 getting her MLIS while working at a non-profit. She will share her experience, how MLIS degrees may or may not work well for everyone in Oregon libraries, and answer any questions you have about library school!
Material Provided: SSD-2023-Conference-Library-Degree-Presentation